Learn to Quilt Series: All about fabric
I wasn't sure how to start this post – well – I started it with a tiny squeal and a happy dance, because it's my favorite part. So I guess you can just picture that, and we'll move on.
I. Love. Fabric. I'm a very neutral decorator, so our home only has plants and quilts to add color and life to the place…the quilts being my favorite!
Look at it this way – quilts don't die if you overwater them. Which is apparently a thing.
But before we dive down the fabric rabbit hole – let's catch up.
---
In this tutorial series, we'll be learning how to sew a throw-sized disappearing nine patch quilt start to finish, from my free pattern First Crush Charm. And in case you didn't catch my enthusiasm earlier, it's going to be really stinking fun. Here's some colorful inspiration if you need it. 🙂
---
Fabric Selection
Let's start with the difference in "quilting cotton" vs. "other cotton". Cotton fabric is everywhere – apparel, bedding, home decor – and at all different prices. So why do I recommend quilting cotton, especially when it costs anywhere from $6-10/yard?!
Disclaimer: I am not a textile expert. But I'll do my best.
Quilting cotton is made specifically for quilting…yes, duh, but this is important. Meaning it cuts well, is typically thicker than apparel cotton – making it easy to work with – yet with enough softness and drape to make a nice blanket. It will withstand lots of handling during sewing without unraveling and will wash without fading or bleeding. Using the right tool makes the job easier, and while lots of folks have sewn quilts with all sorts of materials, high-quality quilting cotton is a beginner's best friend.
Your next question should be: "Is there a difference in $2.99/yard fabric from Hobby Lobby, Walmart, or JoAnn's and the $10/yard fabric you're about to recommend?"
And the honest answer is – I don't know.
I have read and heard that chain-store fabric is of lesser quality than the premium cotton sold in quilt stores. It (may) bleed and shrink in the wash, have a coarser "hand" (the softness, drape, and overall feel of the fabric), and (may) not hold up well to years and years of use. I say *may* because I haven't used it before, and can't refute or validate any of these claims.
HOWEVER.
I never want to turn off a person to quilting with snobby and disparaging remarks about fabric. I use what I use because I can afford it, I like it, it doesn't cause me any trouble, and it makes wonderful quilts. I recommend it for that reason. I can't possibly try every fabric out there, so use what you like and don't think for a second I (or anyone else) will care where it came from. 🙂
This quilt will use approximately $80-100 of fabric at $6-10/yard. If chain-store fabric is what you can afford, or if you have experience with it and it's worked great for you – buy it! I would much rather you enjoy this experience and not back out simply because the fabric I use is too expensive. You can also mix premium designer prints with inexpensive background and backings to bring the designer fabric cost down to ~$30.
Fair enough? Fabric quality can be a sticky subject. So you do you! Let's move on and dive into the world of designer fabric, precuts, and my favorite stores!
---
De-coding Designer Fabric
Remember kingdom-phylum-class-order-family-genus-species? …..no? It's ok, I had to google it to get it right. But the idea is the same in the fabric world.
It goes like this: manufacturer – designer – collection. This was really confusing to me when I first started, so I'll assume you're as lost as I was.
Check out the pictures below:
In this photo, the cotton manufacturer is Art Gallery Fabrics. Maureen Crackness is the fabric designer. The name of the collection is "Sunkissed" – a bundle of summer-inspired fabrics designed to coordinate with one another!
Similarly, here the manufacturer is Moda. Bonnie and Camille is the design duo behind the collection named "Vintage Picnic". (Adorbs.)
This is actually super awesome for beginner and experienced quilters alike – if you're like me and have trouble matching your socks, you can let the artists do all the work! Using all or part of a collection is an easy way to get a cohesive look and coordinate prints. Collections are only available for a limited time before they stop production, so I tend to stock up on my favorites.
Hoarder status: Semi-professional.
---
Pre-cut Fabric
Remember when I said rotary cutters were the best thing since sliced bread? Well, pre-cut fabric (simply called "precuts") is the sliced bread.
Trust me on this one. Let me explain.
A bolt of quilting cotton is 40-42″ wide. This measurement is abbreviated as "WOF", or width of fabric from selvage to selvage (edge to edge). We then cut fabric off the bolt by the yard – so a yard of fabric measure 36″ x WOF. Quilts typically only require 2-3 yards of fabric – so to get more pattern variety, many quilters don't buy by the yard. You can get half yard cuts (18″ x WOF) or quarter yard cuts (9″ x WOF). Problem is, while quarter yard cuts are ideal, it's just a long skinny piece of fabric that isn't terribly useful.
And then someone thought of fat quarters. Bless them. And their children, and their children's children. Because the idea was that good. A fat quarter is still a quarter yard, but it measures 18″ x 21″ rather than 9″ x 42″. It's a more versatile cut for dicing up into all sorts of shapes and sizes.
However, a full collection fat quarter bundle of 20-40 prints can cost upwards of $100! Good news – there are other precuts that contain entire collections. Moda offers the most precuts, with 42 prints in each and a bakery-themed name. Commonly used precuts:
10″ x 10″ squares (layer cake)
5″ x 5″ squares (charm pack)
2.5″ x 42″ strips (jelly roll)
9″ x 21″ rectangles (fat eighth bundle)
If you have a pattern that uses precuts, you can cut down on the amount of fabric you need to buy. It's also nice when you don't have a plan for a collection you like! Just stash a jelly roll or a layer cake and save it for a rainy day.
Our quilt is designed to use either 11 fat quarters, or 3 charm packs. Best part – if you choose charm packs, you don't have to sub-cut the print! It can save some time in addition to reducing fabric waste, so precuts are handy.
---
Buying Fabric
Every pattern will tell you exactly what you need to buy in order to make the entire quilt. Let's look at our pattern:
So you're going to need fat quarters or charm packs, and some yardage for binding, background, and backing. Now what.
I am not lucky enough to have a modern quilt shop within reasonable driving distance, so I do all my fabric shopping online. If you're ready to just stay in your pajamas all weekend, check out my favorite shops!
---
Fat Quarter Shop – won't have the best prices in town, but they have a huge selection of yardage and precuts, and you may save money on shipping by getting everything you need here. Excellent place to browse if nothing else! Half-yard minimum on yardage cuts.
Southern Fabric – sells a lot of fat quarter bundles and precuts. Half-yard minimum on yardage cuts.
Hawthorne Threads – manufactures their own fabric as well as carries other quilting cotton. Great for fat quarter bundles and often offers 1/2 collections, but doesn't have a ton of other precuts. Half-yard minimum on yardage cuts.
Etsy – you'll find a ton of fabric shops on Etsy! With their low overhead, many Etsy stores offer great prices, although inventory can be small. Many offer fat quarter cuts of yardage. You can search the site, or browse my favorites:
Catching Stitches – great store for precuts, and offers 5-yard backing cuts at a steep discount!
StitchesNGiggles4U – Excellent prices, carries a lot of Moda
Bobbie Lou Fabric – priced a bit steep for fat quarters, but has a huge selection. Carries a lot of Art Gallery Fabrics.
Stash Modern Fabrics – carries a ton of collections and curated bundles of modern fabric.
Fresh Modern Fabric – also carries a lot of Art Gallery Fabrics.
Brewstitched – offers curated bundles of 7-10 fat quarters
If you're in a browsing mood –
Browse Art Gallery Fabrics collections here. (I live on this website…#AGFfangirl)
Browse Cotton and Steele collections here.
---
Some of my fabric pulls for this quilt are below – I'm having trouble deciding! Once you pick your fabric, I'd love to see your choices shared with me on Facebook or Instagram! (@rebaleighhandmade) Use the hashtag #rebaleighLearntoQuilt to see what others are making!
Happy hoarding!
-Rebecca
Fabric shopping list
11 fat quarters OR
3 charm packs (assumes 42 squares/pack – you'll need 125 squares total)
2 3/4 yards of background fabric
1/2 yard of binding fabric
4 yards of backing fabric*
*A note on backing – this is assuming you'll be using cotton backing that is 40-42″ wide. If you plan to quilt at home, I HIGHLY recommend cotton. It's the easiest for new quilters to work with. If you plan to send your quilt to a long-arm service, you can consider using flannel, minky, or other fabric substrates on the back and will need to double-check measurements before ordering. Contact your quilter ahead of time to make sure they are able and comfortable with what you're considering. I exclusively use cotton at home because that's what I'm comfortable with, and I like to have my long-arm quilter put minky on the back!
My fabric pull!
I'll use a white background for both options, and I haven't decided on backing fabric yet. I'll be quilting it at home, so I'll use a bold cotton print on the back for interest.
Option 1: A woodsy pull from various Art Gallery Fabrics designers
Option 2: Using charm packs from Bonnie and Camille's most recent collection The Good Life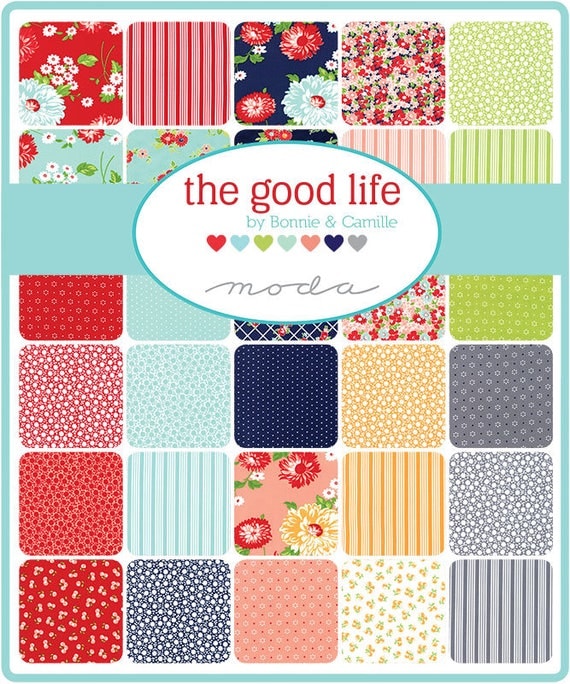 ---
Learn to Quilt Series: Tutorial links